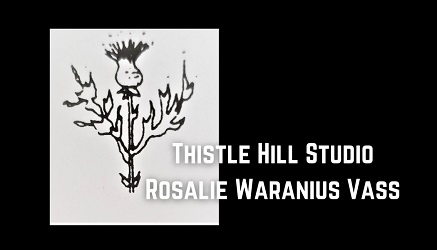 Live Inventory Art Show December 11, 2021 at 11 AM CST on Facebook
Welcome to my live inventory art show! I hope you enjoy my work!
All art work has been discounted by at least 25% off the original price!
Price includes standard shipping within the continental US.
Feel Free to Purchase before the actual live show! This Sale is first come first serve so do not wait to buy!
#1 Stained Glass Menagerie

It took days longer to finish this work because, I do not know the title! As you know without a title, I am somewhat lost. For me, each piece needs a working title to direct the composition. As I worked on and studied this painting, I saw some chaos so the I kept thinking Cracked Up. Somehow that title just does not seem appropriate…so what am I missing?

I also noticed a lack of my floating motifs in this painting as well. It seems as if I am reverting back to the time when I used strong, dark outlines on everything. At the time I was influenced by the paintings of Georges Rouault. He had worked in a shop that made stained-glass windows. When he started painting, he outlined all his figures with very thick black outlines reminiscent of those in a stained-glass window. In past posts, I have told you that I never use black paint. I use dark blue, red, and green to make a dark mix that resembles black and that is the color I used to make the outlines in this work. The outlines used in this small painting are delicate compared to those of Rouault, but I feel that influence none the less.

Even after this little examination of my thought process, a title has not come forward yet. This painting needs a title! What to do?! Any thoughts?

A couple days later...

Kealie Walsh came up with the most appropriate title for this painting. She had not read any of the social media posts but just looked at the painting and came up with the title. It is perfect…Stained Glass Menagerie.

Media: Watercolor and prisma color pencil on heavy watercolor paper with collaged/stitched paper border

Size: 12 x 16

#2 Covid Chaos

Even the animals and all of nature did not know how to cope with the shutdown of the world.

Media: Watercolor and Black Ink on Textured Brown Paper - Unframed.

Size: 18.75 x 22.25

#3 Model with a Fan

I am no longer interested in doing a realistic rendering of the

model

. I find it much more interesting to catch the essence of the the posture and the demeaner presented before me. In this small painting the atmosphere of the room blends with the stiff posture of the

model

.

Media: This opaque watercolor painting was painted on heavy Indian Village Paper that has an irregular edge. When framing, a floated presentation looks stunning.

Size: 12 x 9 unframed.

#4 Can Goats Swim

Did you ever wonder if all animals can swim? In this painting, I've put a goat in situation where he is surrounded by water. Do you think he can swim? I guess, put in the right circumstance, we can all do things that surprise us!

Media: Opaque watercolor with prisma color pencil on watercolor paper with collage border

Size: 16 x 12

#5 Me & Moon Sky

Me & Moon Sky…

As you may have noticed, I pay great attention to the sky. This little landscape seems overwhelmed with sky and that suits me just fine. When I was a kid, I would lie on my back in the grass and watch the clouds move and cover the sun. The clouds came in different sizes, shapes and colors. I never even thought of traveling in outer space. I was content to be in my little space on earth.

I enjoy taking artistic license and creating my own special sky. That's the freedom of having a vivid imagination. Me & Moon Sky is an opaque watercolor painting on hand-made paper from India. It is very thick with a hard bumpy surface. It causes my brushes to wear to nubs. Another attribute of this paper is that it is never square and gives my framer a challenge or two.

When you view this painting, picture yourself lying in the grass looking at this sky. Recall you childhood memories and enjoy!!

Size: 23 x 16.5 Unframed

#6 He Loves Me He Loves Me Not

Here the model seems dejected, completely alone and very sad. Because it was close to Valentine's day, I thought it might be the case of a breakup. Even the flowers seem dry and colorless adding to the desolation. The tightness of the composition adds to the distress.

This opaque watercolor painting was painted on heavy Indian Village paper that has an irregular edge. When framing, a floated presentation looks stunning.

Size: 12.25" x 9.5" Unframed

#7 Holy Angels Church

I love old white country churches. When the name of the church is Holy Angels plural. I visualized all the angels surrounding and protecting it.

Oil Paint on Gesso Paper

Size: 15 x 15 Unframed.

#8 Shades of Autumn

The color brown always reminds of this story about a would-be collector. She was well acquainted with my paintings because her in-laws had several in their collection. I think that she was directed to find a painting in my studio or commission me for a piece by the family. So, she made an appointment, and I could tell by her body language that she was going to be difficult. She wanted a brown painting. No other color could be introduced. So, we got into the discussion of complimentary colors. Browns are ancestors of orange and if you want the brown to pop there would have to be some blue. Absolutely not!! She was having none of it and walked away empty handed. I always wondered if she ever found her perfect brown painting. So, I decided to paint one.

Here is the quintessential brown, Fall painting with the perfect blue to give life to the brown. This painting entitled, Shades of Autumn, may inspire you to go to an apple orchard or pumpkin patch because the time is right!

Media: Opaque Watercolor and Prisma color pencil on watercolor paper

Size: 22 x 15 Unframed

#9 Come let us frolic frolic in the snow

Oh my goodness! I thought it was Spring, but the weatherman is telling me about the snow coming on Monday. Time just sprang ahead at 2 AM...daylight saving time. What happened? I just got out a Spring jacket and smiled at the sun. Now I need gloves!

What to do?? I got out the stick and ink and some snow paint and this is what happened. Cows and Snow! Did you know that cows can frolic?

Media: Black & Brown ink and white acrylic paint on cardboard

#10 Private Beach

Private Beach…

Now that the school year is winding down, people are beginning to make vacation plans. For most of us, it has been an exceptionally long year within the confines of our homes. I heard on the news that planes to vacation spots are full, rental cars scarce, and resorts are booked for months. Beach vacations are in great demand. I can imagine that suitcases are being stuffed with beach towels, sun block and those itsy-bitsy teeny-weeny polka dot bikinis. (Now I have that song running through my head!!)

Did you know that there are wonderful stretches of beaches that are not open to the public? Throughout the country there has been an on-going debate about the ownership of the sand between the waterfront mansions of the wealthy and the ocean or lake water. Of course, the homeowners purchased their properties with the understanding that the beach would be exclusively theirs to use. However, the public keeps meandering from the small overpopulated public beaches to those "private beaches".

In this small painting a bikini clad gal is floating on a piece of her own Private Beach. Is this a figment of her imagination or mine?

Media: Opaque watercolor with prisma color pencil on watercolor paper with collage border

Size: 12.5 x 13

#11 The Green Forest

We took a quick road trip north to Wisconsin the other day. I thought we would see some amazing fall colors lighting up the trees. What a disappointment!! We were too early to catch much color. There were patches of trees with brown leaves here and there and that was it. I don't know what kind of trees these were, but they looked drab and sad.

I am not well versed in knowledge about which trees are most likely to show autumn colors first. From past experience, I would guess that it might be the Maple trees. It was amazing to see that even though we were almost to September's end the grass and trees were still green and plush. As we made our way around a curve, I saw an area of very thick woods that was in deep shade and glistened with dark hues of deep blue and green. As we sped past the area on the interstate, I tried to memorize the colors. All the trees merged as if it was one big organism. There was little if any detail so I could only work with color areas as I put my memory in paint. I titled this work, The Green Forest. Maybe if we travel past those woods in a couple of weeks, we will see it on fire with color.

Media: Transparent watercolor on watercolor paper

Size: 11 x 30




#12 Rosy Cheeks

I bet you thought I was talking about the cheeks on her bottom. Actually, I was talking about the cheeks on her face! LOL. This model is one of the many that I have drawn/ painted over the years.

Transparent Watercolor & Pencil

Size: 12 x 8.75

#13 Time to Fly South

Time to Fly South…

Tomorrow is the big day, the Autumnal Equinox. As I promised, here is the entire painting of which I only shared a piece yesterday. There is more to the change of environment in the Autumn than the changing and falling leaves. Have you been watching the birds? They are congregating in yards, trees and on all those electric and telephone lines.

In this painting entitled, Time to Fly South, the birds are lined up on the bottom sewn on border getting ready to fly to warmer destinations. I have always wondered if the flocks of birds who fly together are related. You know Grandpa and Grandma bird at the head of the flock guiding all their children and grandchildren to a tropical port of call. These flocks are always comprised of the same type of birds, so I suppose this is possible.

Size: 29 3/4 x 12 3/4

Media: Opaque watercolor on Heavy Indian Village Watercolor paper with collage border. Unframed.

#14 A Happy Day

There was a sense of relief when the world opened up a little. This is a

happy

painting. There is even a rainbow.

Media: Ink and Watercolor on rough, textured paper - unframed.

Size: 18.75 x 22.25

#15 Speak Softy To Me

I draw from the model every week and have 100's of fast sketches. The model is usually sitting or standing against a blank wall. It is great fun to place that model in a room of my design and color scheme. Sometimes I add an animal or in this case, a bird. This brought back memories of my Mother, who had a parakeet named Ricky. She would let Ricky out of his cage for a short time every day. He was a pest and did not speak softly!

This opaque watercolor painting was painted on heavy Indian Village Paper that has an irregular edge. When framing, a floated presentation looks stunning.

Media: Opaque watercolor on Indian Village Paper

Size: 12.5 x 9.5 Unframed

#16 Lavender Night

Cemetaries can be beautiful and fascinating places to visit. They are always so peaceful, green and filled with stories of the "residents". Have you ever walked through a cemetary and looked at the stones. Some of the inscriptions tell the date, hour and minute that the person died. You can feel the love of the family when you read the epitaphs. This cemetary has all the things that I would find necessary to rest comfortably...a church nearby, beautiful trees, abundant flowers and a wonderful view.

Media: Opaque watercolor with prsima color pencil on watercolor paper.

Size: 41 x 26 Unframed.